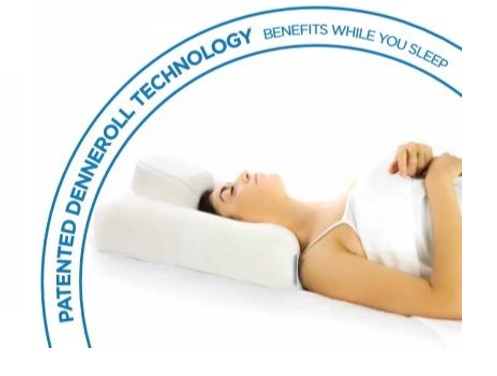 A high performance hygienic memory foam pillow. It's multi-functional Chiropractic design allows for optimal postural support, and integrates Patented Denneroll Technology that improves your spine and health while you sleep.

The Denneroll pillow allows contoured head and neck support when laying on your side. Its contoured shape allows two different heights of neck support whilst the centre of the pillow has a ribbed surface for temperature control and comfort.
PILLOW SIZE – LARGE AND MEDIUM
(SMALL YET TO BE RELEASED)

Some pillows use different densities as a way of varying the pillow height to best fit your spinal neutral position. The Denneroll Pillow differs in that it is made always from the most comfortable density, and instead comes in different sizes to achieve the right fit. The right fit should be individually assessed and is determined by your shoulder width and mattress density.


The pillows' unique design means you can turn the pillow 90 degrees and remove a centre plug which allows your head to fall all the way back to your mattress when laying on your back removing all forward head posture, whilst a memory foam Denneroll insert is positioned in the pillow under your neck which creates cervical lordosis.

These memory foam Denneroll inserts can be interchanged between firm and soft depending on effectiveness and comfort required. Each pillow comes with the soft insert for the most comfort, whilst a firm insert can be purchased separately.

Each pillow has it's own unique pillow case which can be removed for washing. Additional pillow cases can be purchased separately.

——————————————————————————————————–
THERE IS MUCH RESEARCH BEING DONE ON REDUCING FORWARD HEAD POSTURE AND IMPROVING CERVICAL LORDOSIS WHILE IN THE SUPINE SLEEP POSITION.
RESEARCH ON REDUCING FORWARD HEAD POSTURE AND IMPROVING CERVICAL LORDOSIS WHEN USING THE DENNEROLL PILLOW HAS BEEN PERFORMED COMPARING ITS' EFFECTS TO THE MOST POPULAR OF CONTOUR PILLOWS, WITH THE DENNEROLL PILLOW SHOWING THE MOST OUTSTANDING RESULTS.
THE HEALTH BENEFITS OF IMPROVED CERVICAL LORDOSIS AND REDUCED FORWARD HEAD POSITION WHILST SUPINE CAN INCLUDE:
- IMPROVED AIRWAY FOR BETTER BREATHING.
- REDUCED MUSCLE TENSION FOR RELAXATION AND HELPING YOU   GET TO SLEEP.
- IMPROVED  BLOOD FLOW TO THE BRAIN.
——————————————————————————————————–